THIS Avalanche Advisory EXPIRED ON Dec 27, 2018 at 9:54 pm
Avalanche Advisory published on Dec 25, 2018 at 9:54 pm
Issued by Aaron Hartz
Bottom Line
The recent storm brought a much needed addition to our total snowpack. On Sunday the powder was on the heavy side, but the storm finished up colder and left the good stuff on top. I expect the storm slab problem from the latest storm to be subsiding. For anybody traveling in the near treeline and above treeline terrain, pay special attention to wind slabs. The persistent slab problem from the early December buried surface hoar, is still with us and we need to continue to evaluate this problem. Great job to the central Oregon community for your observation posts this season!
Avalanche Character 1: Wind Slab
Avalanche Character 2: Persistent Slab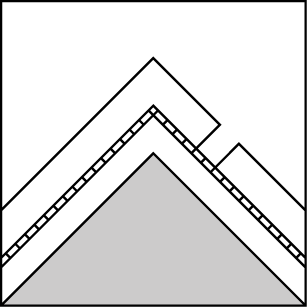 The buried surface hoar will become more difficult to trigger in areas where this layer is deeper than 1 meter (3 feet) below the surface. However it is still possible and the consequence could be big. In terrain where the layer is closer to the surface, likelihood of triggering may be greater. The distribution of this problem is primarily on NW through E through SE slopes. Right now, there is a high level of uncertainty related to this problem. In general, I expect this layer is trending to be more stubborn to triggering.
Avalanche Character 3: Loose Dry
Snowpack Discussion
About 75 cm (2 and half feet) of snow in the last week has added to the central Oregon snowpack.
The upper snowpack may have denser windslabs over weaker snow in some areas.

The mid-pack contains the buried surface hoar (SH) from Dec. 8th. This weak layer is usually identifiable in the snowpack by spotting the Dec. 11 rain crust 5-10cm above the SH. The SH layer has exhibited a high degree of variability regarding depth and test results. In the last week it has been found as shallow as 50cm at Paulina Pk, and as deep as 150cm at Ball Butte. In some places, the SH is well preserved and in others it is degrading and breaking down.

The lower-pack is strong.
Recent Observations
Some great observations have been coming in and avalanche activity has been reported in the last few days. - Saturday, a slab avalanche was reported from Paulina Pk. area. The weak layer was reported to be buried surface hoar down 50cm, on a north aspect near treeline. The avalanche was reported to be big enough to bury, injure, or kill a persone (Size D2). This slab was snowmobile triggered. - Sunday a wind slab avalanche was reported from Tam Rim on NE slope (human trigger; size not reported but from the picture probably D1-1.5) - Monday a storm slab avalanche was reported from Tam Rim. 25cm crown, released during a ski cut. on a steep north facing slope near treeline. Failure was on a mid-storm density change. - Tuesday, small slabs were reported from Broken Top above treeline (type, trigger,size, slope aspect unreported) Several recent reports have offered some information on the buried surface hoar layer. Some snowpack tests have yielded sudden (i.e. sensitive) results, and others suggest the layer is non-reactive. The take home point is, this weak layer is still in the terrain and people are still finding it. New surface hoar formation has been spotted on the top of the snowpack in shaded protected areas....we will keep an eye on this to see if it is buried by the next round of snow.
Mountain Weather
We may see several inches of snow late Wednesday and early Thursday. Daytime high temperatures are forecast to be in the mid to upper 20's F in the mountains. The wind forecast is for mostly light to moderate wind out of the west and northwest
Disclaimer
This snowpack summary applies only to backcountry areas. Click here for a map of the area. This snowpack summary describes general avalanche conditions and local variations always occur. This snowpack summary expires in 48 hours unless otherwise noted.
For all your pre and après ski needs, answers to questions, event calendars, restaurant recommendations, where to stay, and all things Bend....
www.visitbend.com