THIS Avalanche Advisory EXPIRED ON Dec 23, 2018 at 10:48 pm
Avalanche Advisory published on Dec 21, 2018 at 10:48 pm
Issued by Gabe Coler
Bottom Line
The cycle of large avalanches that followed our most recent storm likey failed on a weak layer of buried surface hoar. This layer continues to exist in the snowpack. As it gets buried deeper we will see less avalanche activity on this layer, although any avalanches that do occurr will be more destructive. Our next storm cycle begins Saturday night and my attenton will once again be drawn to newly forming wind slabs and possible storm slabs. These direct action avalanches could be forceful enough to step down to the weaker layer.
Avalanche Character 1: Wind Slab
Avalanche Character 2: Storm Slab
Avalanche Character 3: Deep Slab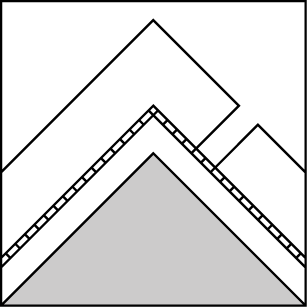 After last Tuesday's storm it is likey that much of the buried surface hoar was flushed from slopes in the resulting avalanches. It would be fool-hardy to assume that this layer is absent from our ski terrain. Now it exists over a meter deep in the snowpack and beneath numerous layers of hard snow. It is increasingly less likely that we'll see avalanches on this persistent weak layer, but any resulting ones will be very destructive. Deep slabs are often triggered by: cornice collapse, other avalanches stepping down, or triggered in shallower spots.
Snowpack Discussion
10 cm. of new snow from yestrday afteroon/night made fore pleasant riding today. The snow from mid week is well consolidated and appears to be bonding well.

The December 8th Surface Hoar layer is now buried 1 - 1.5 meters and is overlaid by several hard layers and at least one crust. It will be very difficult to effectively test. Probing and terrain avoidance may be the best tools.
Recent Observations
Last week was an exciting one with numerous size 2 and 3 avalanches following the heaviest snow fall and likely failing down to the buried surface hoar layer.
Mountain Weather
What a pleasant cold day it was today! Saturday will likely be partly cloudy and warming. Saturday night and Sunday will provide significant new snow along with forecasted temperatures just below freezing. The wind will be out of the South West.
Disclaimer
This snowpack summary applies only to backcountry areas. Click here for a map of the area. This snowpack summary describes general avalanche conditions and local variations always occur. This snowpack summary expires in 48 hours unless otherwise noted.
For all your pre and après ski needs, answers to questions, event calendars, restaurant recommendations, where to stay, and all things Bend....
www.visitbend.com