THIS Avalanche Advisory EXPIRED ON Dec 20, 2018 at 11:06 pm
Avalanche Advisory published on Dec 18, 2018 at 11:06 pm
Issued by Aaron Hartz
Bottom Line
Currently, our primary weak layer of concern is the buried surface hoar that is now 50 to 80 cm below the surface (deeper on wind loaded slopes). This layer appears to be most reactive on northerly and easterly aspects above 7000ft. No avalanche activity associated with this layer has been reported but on the right slope in the right terrain, triggering an avalanche on this layer could be possible. With the new storm snow and wind from today, wind slabs are once again a likely problem near and above treeline.
Avalanche Character 1: Persistent Slab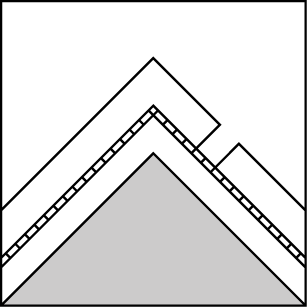 The buried surface hoar layer has been very reactive during stability tests in recent days. Although no persistent slab avalanches have been reported, triggering an avalanche on this layer is possible. If you experience a collapse of the snowpack or hear a whumphing sound, retreat to low angle slopes less than 30 degrees steep.
Avalanche Character 2: Wind Slab
Avalanche Character 3: Storm Slab
Snowpack Discussion
The lower snowpack appears to be mostly strong. Somewhere in the middle of the pack is our weakest layer - the buried surface hoar that is now down 50 to 80cm below the surface (deeper on wind loaded slopes).
The structure of the upper pack (above the buried surface hoar) is generally good

Recent Observations
There have been no reports of avalanches in recent days. However, reports of the buried surface hoar layer acting up have been coming in over the last few days. Wumphing and/or collapsing has been reported from north and east facing terrain below and above treeline. Stability test results on the buried surface hoar layer have varied widely, but notably a handful of people have reported sudden results during compression tests and propagation during extended column tests, associated with this layer.
Mountain Weather
As we savor the new snow from Tuesday.....We may see several inches of snow into Wednesday morning and then the storm backs off. Look for a little more snow on Thursday. The wind is forecast to be out of the west and southwest over the next several days.
Disclaimer
This snowpack summary applies only to backcountry areas. Click here for a map of the area. This snowpack summary describes general avalanche conditions and local variations always occur. This snowpack summary expires in 48 hours unless otherwise noted.
For all your pre and après ski needs, answers to questions, event calendars, restaurant recommendations, where to stay, and all things Bend....
www.visitbend.com