THIS Avalanche Advisory EXPIRED ON Dec 13, 2018 at 9:33 pm
Avalanche Advisory published on Dec 11, 2018 at 9:33 pm
Issued by Aaron Hartz
Bottom Line
This advisory will depend heavily on the weather over the next 24-48 hours and how much snow falls in central Oregon. Throughout the last week, minimal avalanche problems have been present. With the incoming storm things could change fast. Wind slabs and storm slabs will most likely be present in the days to come. Isolated buried surface hoar was still being found today and with significant snow loading, an isolated persistent slab problem may be present. In the avalanche problem list below, I was able to choose only 3 avalanche types. In addition to the list below, there may also be loose dry avalanches following the storm. Often referred to as 'sloughs', these can be found when the new snow lacks cohesion. These can be human triggered in steep terrain, potentially knocking a person off their feet. Wet loose avalanches may be possible on Thursday as the sun comes out and the air temperature warms to above freezing. Look for these on steep slopes with direct sun exposure. The loose avalanche problems will be mostly be a concern in big or committing terrain. Remember, anytime you are in doubt of the snow stability, move out of avalanche terrain. That means move to terrain that is less than 30 degrees steep and keep enjoying the ride. Fingers crossed for snow and good riding conditions!
Avalanche Character 1: Wind Slab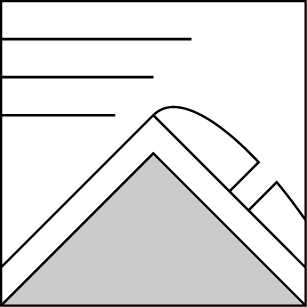 With wind coming out of the west and SW, I expect there could be wind slab formation on lee slopes facing to the SE through E through N. With strong wind gusts, some of snow will blast away to the atmosphere, but on the lower end of the wind speeds, some slope features will catch the blowing snow. Watch for new wind slabs near and above treeline. The likelihood of triggering a wind slab avalanche will be greatest during the storm and up to several days after. The size of a potential avalanche will depend on the size of the wind slab and specific terrain features.
Avalanche Character 2: Storm Slab
Avalanche Character 3: Persistent Slab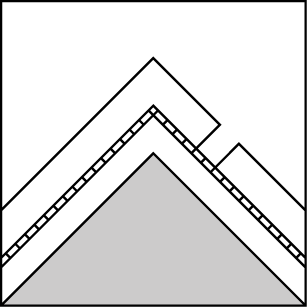 This avalanche problem will be very specific to certain pieces of terrain. Surface hoar from last week, was buried by the several inches of snow in the last few days. Surface hoar creates a weak layer in the snowpack when buried and this is not an avalanche type we see regularly in central Oregon. It is not a concern until a sizable slab (6" or more) are on top of this layer. This will be specific to terrain that is protected from wind, northerly facing and/or shaded, and was not heavily affected by the rain earlier today. Think upper elevation of the trees on shaded slopes. I am still uncertain how active this layer will become with the addition of new snow loading. This 'persistent' weak layer may not persist long....however that remains to be seen.
Snowpack Discussion
As of today, the snowpack depth ranged from 50 - 90 cm in most areas. Several crusts exist throughout the pack. Overall, the snowpack is showing good structure. The most notable weakness is isolated buried surface hoar down 5-10cm on shaded , protected, and colder terrain.


Recent Observations
No avalanche activity has been reported in the last several days.
Mountain Weather
Snow is on the way. The forecast is calling for between 6-12 inches Tuesday night into Wednesday morning and then the storm backs off. Along with the snow will be wind out of the west to southwest ranging from light to moderate with strong gusts. Nighttime low temperatures may dip into the upper teens with warmer days. Thursday looks to be the warmest and fairest day this week.
Disclaimer
This snowpack summary applies only to backcountry areas. Click here for a map of the area. This snowpack summary describes general avalanche conditions and local variations always occur. This snowpack summary expires in 48 hours unless otherwise noted.
For all your pre and après ski needs, answers to questions, event calendars, restaurant recommendations, where to stay, and all things Bend....
www.visitbend.com