THIS Avalanche Advisory EXPIRED ON Dec 6, 2018 at 9:34 pm
Avalanche Advisory published on Dec 4, 2018 at 9:34 pm
Issued by Aaron Hartz
Bottom Line
Central Oregon is still in the early winter stage and the snowpack shows it. We have a thin snowpack, but enough for some good turns. It is great to see some observations coming in already from people who have been touring in the backcountry and the COAC observer team officially started up this week. During and after the last storm, backcountry users have been finding good riding conditions. However, we are still in a period of limited information as we get a handle on the season. Until we see more snowfall, potential avalanche activity will be related to isolated surface instabilities. Watch for those early season obstacles such as shallow and exposed rocks and logs!
Avalanche Character 1: Normal Caution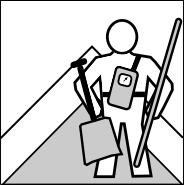 Although no major weak layers have been found, there can still be pockets of unstable snow on isolated features. Watch for pockets of wind slab in areas where certain slopes catch the blowing snow. Also watch for pockets of unconsolidated dry snow on steep terrain that can contribute to loose dry avalanches.
Avalanche Character 2: Wind Slab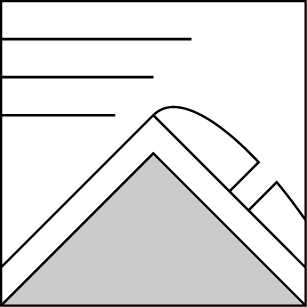 Look for isolated areas of wind loaded snow. Even though we have not seen fresh snow in a few days, there is still some soft snow out there to blow around and blowing snow has been observed as recently as Tuesday (today). Pockets of isolated wind slab may be lurking around on NW through N through E facing aspects near and above treeline. Human triggered avalanches would most likely be small, but could have big consequence in committing terrain.
Snowpack Discussion
The mountain snowpack is shallow. The snow depth ranges from two feet at around 6000 ft to 3+ feet near and above treeline. Deeper pockets of wind drifted snow may be found. No significant weak layers have been reported within in the snowpack.
Recent Observations
The only recent avalanche reports are of small dry loose slides on east facing terrain above treeline.
Mountain Weather
Mountain enthusiasts will most likely see a few more days of sunshine before the weather turns a bit more winter like over the weekend. Nighttime low temperatures will dip into the teens and daytime highs will get into the mid to upper twenties. The wind is forecast to be light with moderate gusts out of the SE through SW over the next few days.
Disclaimer
This snowpack summary applies only to backcountry areas. Click here for a map of the area. This snowpack summary describes general avalanche conditions and local variations always occur. This snowpack summary expires in 48 hours unless otherwise noted.
For all your pre and après ski needs, answers to questions, event calendars, restaurant recommendations, where to stay, and all things Bend....
www.visitbend.com