THIS Avalanche Advisory EXPIRED ON Apr 30, 2018 at 5:32 am
Avalanche Advisory published on Apr 28, 2018 at 5:32 am
Issued by Gabe Coler
Bottom Line
Cooling temperatures and snow showers will dramatically decrease the Loose Wet avalanche problem that we've had during last week.
Avalanche Character 1: Normal Caution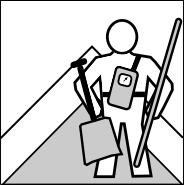 While I haven't forecast any avalanche problems that doesn't mean you won't be able to find some limited instabilities. Cornices are weakening this time of year, and many will fall off soon. If we do see an inch or two accumulation from these snow showers, you'll be able to find very shallow wind slabs on East aspects.
Snowpack Discussion
An overnight freeze Friday night will have created a melt-freeze crust over much of the terrain. Any potential avalanche problems are confined to the upper snow-pack as we have no persistent weak layers present in our snow-pack.
Recent Observations
Last week was mostly warm and sunny. Friday brought a bit of rain and mist to the mountains. There were reports of Loose Wet avalanches up to size 2 and Cornice failures.
Mountain Weather
This weekend will be cooler with snow showers. Expect accumulations to be less than a few inches, with some models showing only a trace of new snow. High temperatures will be in the mid to upper 30's F with overnight lows dipping below freezing. The wind will be from the West.
Disclaimer
This snowpack summary applies only to backcountry areas. Click here for a map of the area. This snowpack summary describes general avalanche conditions and local variations always occur. This snowpack summary expires in 48 hours unless otherwise noted.
For all your pre and après ski needs, answers to questions, event calendars, restaurant recommendations, where to stay, and all things Bend....
www.visitbend.com