THIS Avalanche Advisory EXPIRED ON Apr 15, 2018 at 7:25 pm
Avalanche Advisory published on Apr 13, 2018 at 7:25 pm
Issued by Aaron Hartz
Bottom Line
We are coming off a great couple of days of powder skiing. It has been feeling like spring in town, but still feels a lot like winter in the mountains. Along with winter weather we saw a return to some of our usual winter problems. Pockets of wind slabs have been observed near treeline up to 30cm thick. They are most likely lurking on lee slopes in the alpine terrain above treeline, but with the recent low visibility we are lacking observations from above treeline. Loose dry avalanches were observed over the last few days, but I expect with the bump up in air temperature, the snow will consolidate and loose dry will be less of a concern. For people poking in the the alpine terrain on Saturday, watch for signs of unstable snow before committing to big lines.
Avalanche Character 1: Wind Slab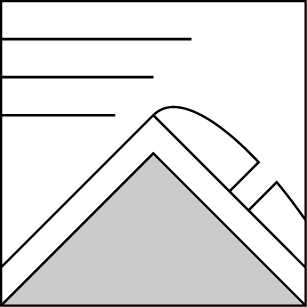 Watch for wind slabs on north through east facing slopes near and above treeline. The existing wind slabs could still be sensitive to triggering well through the weekend although as time goes by they will become more stubborn. Evaluate wind slabs before dropping into committing avalanche terrain. In some areas, wind slabs will be in pockets and not widespread...look for them as you move through the terrain. Near treeline, human triggered wind slabs will most likely be on the small side. Above treeline is a bit of an unknown as we have not had any recent obs from the high country. If we get a few inches of snow on Saturday night and Sunday, watch for new shallow wind slabs forming on north through east slopes.
Recent Observations
Human triggered and natural, small (D1) loose dry avalanches have been observed over the last few days below treeline. Human triggered wind slabs (small; D1) have been observed near treeline on north and east aspects. Today, Phil noted that air temperature reached near freezing at Todd lake today and precipitation was wet snow verging on rain in the afternoon.
Mountain Weather
The current storm is tapering off. The forecast is calling for a break in the weather on Saturday with a partly cloudy sky and air temperature bumping up to mid 30's Fahrenheit. A cooling trend starts Saturday night and we may see a few more inches of snow into Sunday.
Disclaimer
This snowpack summary applies only to backcountry areas. Click here for a map of the area. This snowpack summary describes general avalanche conditions and local variations always occur. This snowpack summary expires in 48 hours unless otherwise noted.
For all your pre and après ski needs, answers to questions, event calendars, restaurant recommendations, where to stay, and all things Bend....
www.visitbend.com