THIS Avalanche Advisory EXPIRED ON Apr 12, 2018 at 9:57 pm
Avalanche Advisory published on Apr 10, 2018 at 9:57 pm
Issued by Aaron Hartz
Bottom Line
We have experienced a wide swing in conditions over the last week. Rain, snow, sun, warm, cold, wind, calm...you name it we got it. Some riding has been really good, some less so...as a wise man once said, around here in the spring we don't have powder days, we have powder hours. Get it while its good. As the air temperature dropped today, any wet avalanche problems will have subsided. There is snow in the forecast. Wind slabs will be our primary concern if we get the snow accumulation the forecast is calling for. Cornices exist in the central Oregon mountains. They are isolated, not widespread, and we have not been seeing much in the way of cornice breaks, but be cautions when approaching ridge tops with consequential terrain below.
Avalanche Character 1: Wind Slab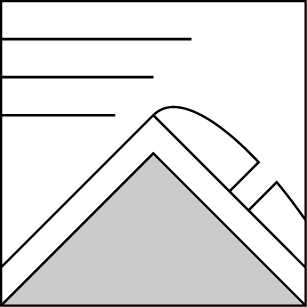 If the central Oregon mountains receive at least a few inches of snow, look for new wind slabs forming on NW-N-E-SE slopes near treeline and above treeline. With a few inches of snow, wind slabs will most likely be shallow, If we get 6-12" of snow, the wind slabs could be up to a several feet thick.
Snowpack Discussion
The last round of snow was found to be bonding well the rain crust below it. No persistent type weak layers have been found. The deep and mid snowpack are strong. Any weakness in the upper snowpack will most likely be associated with new snow/wind transported snow.
Recent Observations
No recent avalanche activity has been reported.
Mountain Weather
Snow is on the way. There could be as much as 6" of new snow tomorrow (Wednesday) and 6" on Thursday. Along with snow, the forecast is calling for light to moderate wind out of the south through west with strong gusts. Nighttime lows will be in the teens to upper 20's and daytime highs in the mid 20's to mid 30's over the next few days.
Disclaimer
This snowpack summary applies only to backcountry areas. Click here for a map of the area. This snowpack summary describes general avalanche conditions and local variations always occur. This snowpack summary expires in 48 hours unless otherwise noted.
For all your pre and après ski needs, answers to questions, event calendars, restaurant recommendations, where to stay, and all things Bend....
www.visitbend.com