THIS Avalanche Advisory EXPIRED ON Apr 5, 2018 at 10:07 pm
Avalanche Advisory published on Apr 3, 2018 at 10:07 pm
Issued by Aaron Hartz
Bottom Line
We are looking at a mixed bag of conditions over the next few days. At the present moment, there is little in the way of avalanche problems. There are isolated cornices above treeline, mostly facing to the SE-E-NE. We have not been seeing much in the way of cornice breaks, but they are something to watch for. There is a chance of rain at lower elevations, below treeline...periodically over the next few days. On the bright side, there may be a few inches of new snow possible on Thursday and Friday. For now, I will hold off on calling for any wind slab potential for the next day and update the avalanche problem list if it looks like we will indeed get more than a dusting of snow....stay tuned over the next few days for updates to this advisory.
Avalanche Character 2: Loose Wet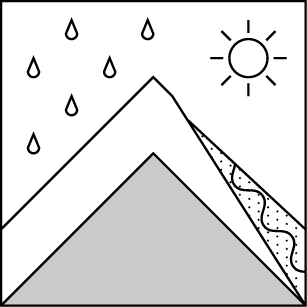 Loose wet avalanche activity will be specific to below treeline elevations if rain is falling and/or the snow becomes wet. Watch for these in steep/consequential terrain if you decide to ski in the rain :) If the snow is not becoming wet/slushy and/or you are not seeing roller balls then the loose wet problem will be less likely or even non-existent.
Snowpack Discussion
There are no significant weak layers in the snowpack at the present time. Any avalanche activity will be related to surface changes such as wet/saturated snow due to rain or wind slab formation later in the week.
Recent Observations
Loose wet avalanche debris was spotted on a variety of solar aspects in the Broken Top bowl on Saturday, however those were from previous days. No recent avalanche activity has been reported since then.
Mountain Weather
Possible snow showers Tuesday night and Wednesday, with little accumulation. At lower elevations below treeline, this precipitation may come in the form of rain. Snowfall looks to be more plentiful on Thursday with a few inches possible. The forecast is calling for a mostly cloudy sky over the next few days. Wind is expected to be out of the south through west.
Disclaimer
This snowpack summary applies only to backcountry areas. Click here for a map of the area. This snowpack summary describes general avalanche conditions and local variations always occur. This snowpack summary expires in 48 hours unless otherwise noted.
For all your pre and après ski needs, answers to questions, event calendars, restaurant recommendations, where to stay, and all things Bend....
www.visitbend.com