THIS Avalanche Advisory EXPIRED ON Mar 15, 2018 at 10:20 pm
Avalanche Advisory published on Mar 13, 2018 at 10:20 pm
Issued by Aaron Hartz
Bottom Line
The spike in air temperature today brought a touch of rain to the mountains. Soon after, the incoming storm cooled down and rain turned to snow. Any signs of loose wet avalanches from the rain, will have disappeared with the decreasing air temperature. This storm will probably not make your powder dreams come true, but it will give a good reset to the snow surface. Even with a few inches of new snow we may see the formation of new wind slabs on lee slopes. Small cornices have been spotted here and there on ridge tops. While cornices are not large or widespread, watch out for them when traveling near ridge tops.
Avalanche Character 1: Wind Slab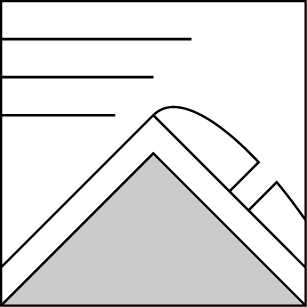 With the wind forecast to be out of the west through south over the next few days, watch for new wind slabs forming on easterly and northerly facing terrain near treeline and above treeline. The wind is forecast to be light over the next few days, but it could be just enough to move snow. Wind slabs will probably be fairly shallow, but are still something to watch for.
Snowpack Discussion
Old wind slabs from the last storm are now well bonded. No significant weak layers have been found recently in the snow pack. Any instabilities in the upper pack will most likely be associated with the incoming storm snow/wind slabs.
Recent Observations
No reports of recent avalanche activity.
Mountain Weather
Although this storm will not drop a whopping dump of snow we could get up to 5 or 6" tonight through Wednesday. Winds are forecast to be out of the West through S over the next few days. Nighttime lows will be in the teens and day time highs in the 20'sF over the next few days.
Disclaimer
This snowpack summary applies only to backcountry areas. Click here for a map of the area. This snowpack summary describes general avalanche conditions and local variations always occur. This snowpack summary expires in 48 hours unless otherwise noted.
For all your pre and après ski needs, answers to questions, event calendars, restaurant recommendations, where to stay, and all things Bend....
www.visitbend.com