THIS Avalanche Advisory EXPIRED ON Mar 10, 2018 at 8:37 pm
Avalanche Advisory published on Mar 9, 2018 at 8:37 pm
Issued by Gabe Coler
Bottom Line
Tomorrow's weather forecast is for high temperatures above freezing, the sun poking in and out, and maybe a snow shower. Avalanche conditions will be similar to today. There are currently shallow, isolated pockets of Wind Slab. If we do get some sustained sun breaks, we might also see some loose wet avalanches on steeper south facing slopes.
Avalanche Character 1: Wind Slab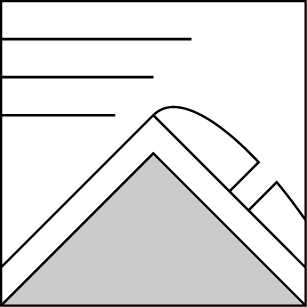 Today Aaron reported finding shallow, isolated pockets of Wind Slab. In the case of Aaron's tour on Tumalo these slabs seemed to be un-reactive/well bonded to the underlying snow pack. While I expect this to be the predominant theme across our terrain, I would still exercise caution and investigate further before skiing lee or cross-loaded terrain.
Snowpack Discussion
Thursday nights storm turned out to be a dud, having deposited less than 3 cm. of new snow! On aspects that receive any sun this new snow overlays a melt-freeze crust (this crust may be absent on North slopes). Beneath that there is meter of increasing density snow ( disintegrating fragments from last weeks powder and then rounded grains from previous storms. There haven't been any observations or evidence of any persistent weak layers in our snow pack.
Recent Observations
There have been no reports of recent avalanche activity.
Mountain Weather
Saturday will bring us a bit of everything. Mountain temperatures will climb into the mid/upper 30's F. There is a chance of snow showers, but also some sun breaks.
Disclaimer
This snowpack summary applies only to backcountry areas. Click here for a map of the area. This snowpack summary describes general avalanche conditions and local variations always occur. This snowpack summary expires in 48 hours unless otherwise noted.
For all your pre and après ski needs, answers to questions, event calendars, restaurant recommendations, where to stay, and all things Bend....
www.visitbend.com