THIS Avalanche Advisory EXPIRED ON Mar 8, 2018 at 8:45 pm
Avalanche Advisory published on Mar 6, 2018 at 8:45 pm
Issued by Aaron Hartz
Bottom Line
The below treeline riding was phenomenal coming off the tail end of the last storm. Above treeline and near treeline, much of the terrain was definitely wind affected although there were only a few reports of wind slab avalanches. Backcountry riders were seen dropping into some of the premier steep lines on Broken Top and the surrounding area over the last few days. Keep watching for lingering wind slabs on lee slopes especially in steep and committing terrain. We will most likely see new wind slabs being formed with the next round of incoming snow this week.
Avalanche Character 1: Wind Slab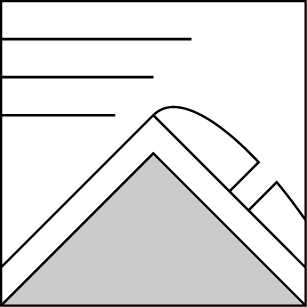 The near treeline and above treeline terrain was heavily wind affected over the last storm There are still lingering wind slabs formed during the last storm, although these will become more and more stubborn to triggering. As of today, active wind transport of snow was still being observed above treeline. There are still some pockets of soft snow to get moved around by the wind. Even though it hasn't snowed for a few days, pockets of wind slab may still be forming on lee slopes. As the new round of snow comes in over the next few days, look for wind slabs forming on north facing terrain, and could range from west to north to east facing terrain near and above treeline.
Snowpack Discussion
The previously unconsolidated upper 15-20cm of snow has mostly started to consolidate due to natural settling, sun, or warmer air temperature. No lingering weak layers have been reported within the storm snow from the last week. However, there could be pockets of wind slabs near and above treeline that are still in the process of bonding to the snow beneath them. The mid and deep pack are strong, with no reports of persistent weak layers.
Recent Observations
Numerous natural and skier triggered dry loose avalanches (small; size D1) were observed during the tail end of the storm through Monday. On Monday, a skier triggered wind slab (small; size D1) was observed on Ball Butte just below the summit on ENE facing terrain at around 8000ft. Also on Monday, a natural loose snow avalanche stepping down into a slab avalanche (size D1) was observed on southerly facing terrain at around 6000ft above the cliff bands that are visible from the road junction of Cascade lakes highway and NF 370. Today a previous slab avalanche was spotted on the NE side of Broken Top above treeline. The size was reported as D2 (large enough to bury, injure or a kill a person) and presumably from sometime over the weekend. Trigger and type were not reported.
Mountain Weather
We will most likely see cloudy skies and some snow in the mountains over the next few days. The forecast indicates anywhere from 4-10" of snow could fall in the Central Oregon mountains from over the next 3 days. Winds are forecast to be out of the SE through SW.
Disclaimer
This snowpack summary applies only to backcountry areas. Click here for a map of the area. This snowpack summary describes general avalanche conditions and local variations always occur. This snowpack summary expires in 48 hours unless otherwise noted.
For all your pre and après ski needs, answers to questions, event calendars, restaurant recommendations, where to stay, and all things Bend....
www.visitbend.com