THIS Avalanche Advisory EXPIRED ON Feb 8, 2018 at 11:07 pm
Avalanche Advisory published on Feb 6, 2018 at 11:07 pm
Issued by Aaron Hartz
Bottom Line
Today felt like spring in the mountains. We are well past any sort of storm snow and wind slab problems. Any current avalanche problems will be related to melting of the surface snow. Watch for loose wet avalanches during the heat of the day on sun exposed slopes, especially in steep terrain. Cornices can be found in a few places near and above treeline at ridge tops. They are not widespread and still relatively small but are something to watch for.
Avalanche Character 1: Loose Wet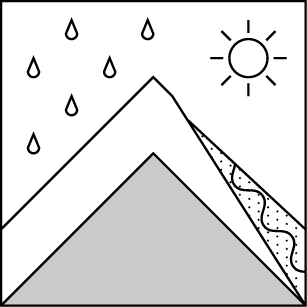 Loose wet avalanches may occur during the warmest part times of the day on sun exposed slopes. Pay attention to areas surrounding rocks, as the rocks can heat up in the sun and melt the surrounding surface snow. If present, loose wet avalanches will most likely be small in size. The likelihood of natural or skier triggered loose wet avalanches will decrease as day time air temperatures decrease and as slopes go into the shade and out of the direct sun.
Snowpack Discussion
No new snow has fallen over the last week. Throughout the central Oregon region, much of the snow surface is comprised of a crust. Sun exposed slopes may see the beginning of a corn cycle this week.
No significant weak layers have been reported in the upper snow pack over the last week.
The mid and lower snowpack continue to be strengthening.
Recent Observations
Since the weekend, avalanche observations have been limited to small (D1) loose wet avalanches on west and south facing slopes near and above treeline.
Mountain Weather
Day time high temperatures in the low to mid 40's over the next two days along with sunny skies. The air temperature will be trending slightly cooler into the end of the week and weekend. Wind is forecast to be out of the northwest to west.
Disclaimer
This snowpack summary applies only to backcountry areas. Click here for a map of the area. This snowpack summary describes general avalanche conditions and local variations always occur. This snowpack summary expires in 48 hours unless otherwise noted.
For all your pre and après ski needs, answers to questions, event calendars, restaurant recommendations, where to stay, and all things Bend....
www.visitbend.com