THIS Avalanche Advisory EXPIRED ON Feb 1, 2018 at 10:20 pm
Avalanche Advisory published on Jan 30, 2018 at 10:20 pm
Issued by Aaron Hartz
Bottom Line
Things were looking pretty good as the last storm cycle was in full swing. Riding conditions were great and the snowpack received an addition of around 80cm or more of new snow. The big warm up over the weekend followed by a solid freeze pretty much put an end to the powder fever that struck the region. On the positive side, the storm slab wind slab danger decreased quickly.
Avalanche Character 1: Cornice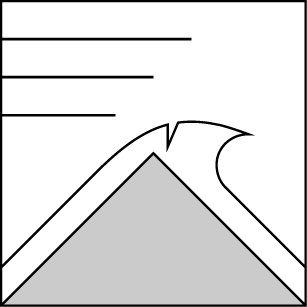 Cornices started growing during the last storm cycle. Small cornices have been observed near and above treeline. They are not widespread yet, but can be found in isolated areas at ridge top hanging over leeward slopes. Although they are not the monster cornices we had last year at this time, they are still something to watch out for.
Snowpack Discussion
It has now been about 4 days since the last significant snowfall. The 80cm of new storm snow was mostly right side up (denser snow on the bottom and lighter snow on top) until the end of the storm when the last 15-20cm came in wet and heavy. The upper snowpack was melted and/or rained on and refrozen resulting in a stout crust in some places up to 10cm thick.
The mid and lower snow pack are characterized by crusts and rounding grains and appear to be relatively strong.
Recent Observations
During the last storm cycle there were reports of skier triggered storm slabs and loose dry avalanches on steep and convex terrain below treeline. On Monday, signs of previous wind slab avalanches were observed on east facing terrain at around 7700ft on Ball Butte. They occurred sometime during, or on the tail end, of the last storm cycle. The exact timing and trigger of the slides is unknown. No recent avalanche activity has been reported from the weekend or the early part of this week.
Mountain Weather
The Central Oregon mountains could get an inch or two of snow here and there by the end of the week. We could also see some rain in the mid and lower elevation terrain during the later part of the week. The day time high for air temperature will be creeping into the low 40's as we roll into the weekend. The wind is forecast to be out of the southwest through west.
Disclaimer
This snowpack summary applies only to backcountry areas. Click here for a map of the area. This snowpack summary describes general avalanche conditions and local variations always occur. This snowpack summary expires in 48 hours unless otherwise noted.
For all your pre and après ski needs, answers to questions, event calendars, restaurant recommendations, where to stay, and all things Bend....
www.visitbend.com